THE MOST ADVANCED TABLE STABILIZER ON THE MARKET
Universal device that can be applied to most table bases
Super easy to install, videos online
Commercial grade construction
One year warranty, happier customers
Adaptable to fit most restaurant table bases
Works on Brick, Concrete, Decks, gravel & unlevel floors
Why Keep On Using Products That Do Not Work
The Most Advanced table stabilizer on the market today
Made in America
Many videos showing you everything about Tablejacks
Our Installation video's Show on which tables they work on
A customer can also view all orders and all communications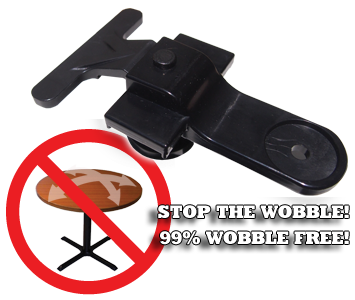 Why Keep Using Products That
Do Not Work?


When Table Jacks Are The Longest Lasting Solution On The Market Backed By A Full Warranty?
THE NEW & IMPROVED TABLEJACK LASTS LONGER THAN EVER BEFORE
The Table Jack is the most advanced table stabilizer on the market today. Tablejacks uses a patented mechanism to stabilize table bases with ease while stopping the frustrating wobble that occurs with most restaurant style tables. Using a revolutionary single Table Jack unit, restaurants and customers can easily adjust the table's wobble back and forth or side-to-side with a simple press of the foot.
Built for use in commercial environments such as busy restaurants and bars, the Table Jack system is incredibly easy to install and comes with the hardware to fit most style table bases up to 2-1/4″ width. Already installed in some of the most demanding restaurant locations, the Table Jack stands up to the most harsh environments while providing its customers a truly wobble free experience. Buy the Table Jack now and see for yourself how easy and wobble free a table can be. 
The biggest problem with restaurant tables are the floors. Most floors in most restaurants and bars are unlevel. Almost every time someone moves a table it will be wobbly. Customers move tables all the time and there is nothing we can do about this but fasten them to the floor or use a product that will eliminate the wobble on your tables. Tablejacks will STOP THE WOBBLE of your tables 99% of the time. Tablejacks are one of the only products in the world that is adjustable. Our product will adjust ¾ of an inch up or down. There is no other product that can adjust this much. Tablejacks will work on brick, decks, tile, concrete, you name it will probably work and made in America. Stop buying products that are made outside of the US.   
Uneven floors are magnified in outdoor seating locations or with bar-height tables where the table's center of gravity is higher. In most cases Tablejacks is the only product that will stabilize your tables. There are a lot of new products that will Stabilize your tables, but they are very expensive and most really do not work as told to me by several facility directors with large restaurant chains.
Check out our list of restaurants that have already installed and are using
Table Jacks daily to prevent table wobble.